Skip to content
1) ? true : false" :class="{ ' shadow transition duration-200' : hasScrolled}">
The Old Mill Pub & Restaurant, Woolacombe
The Old Mill pub and restaurant boasts a traditional and welcoming atmosphere. Located at Golden Coast and Cleavewood Leisure Park, in Woolacombe North Devon.
Opening Hours
Fridays, Saturdays & Sundays: 12pm til 10pm
Subject to change - contact us on 01271 870237
We are closed December 27th & 28th.
About our pub
Formerly a water mill in the 17th century, The Old Mill pub and restaurant in Woolacombe is a must-visit when you're in North Devon. Dog-friendly with a warm and welcoming atmosphere, the only thing flowing here is beer and a good time!
Being so close to our Golden Coast and Cleavewood holiday parks, you have a thriving place to come and relax right on your doorstep.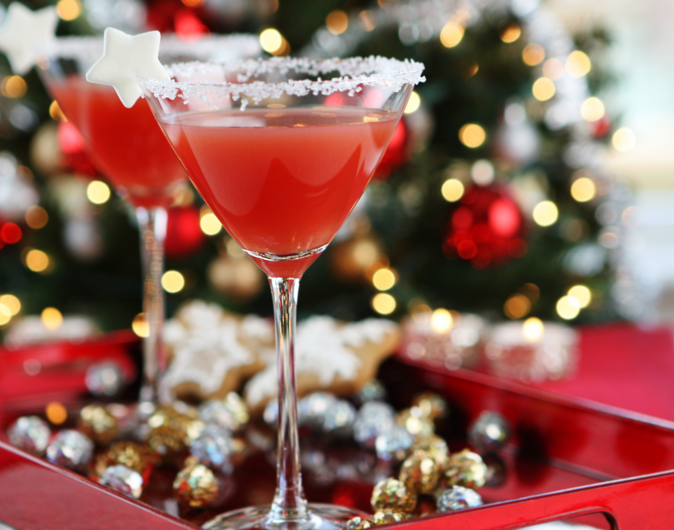 Christmas Party Nights
The perfect place to celebrate friends and family this Christmas, with delicious food and a cosy fire, here at The Old Mill.
Bookings from Sat 2nd December - Sat 23rd December (Only Fridays, Saturdays & Sundays)
Bookings between 12pm & 8pm
Prices:
Adults: £30 for 3 Courses/£25 for 2 Courses
Children: £20 for 2 Courses/£15 for 2 Courses
£10 deposit per person required to confirm booking & a pre-order no later than 5 days prior to booking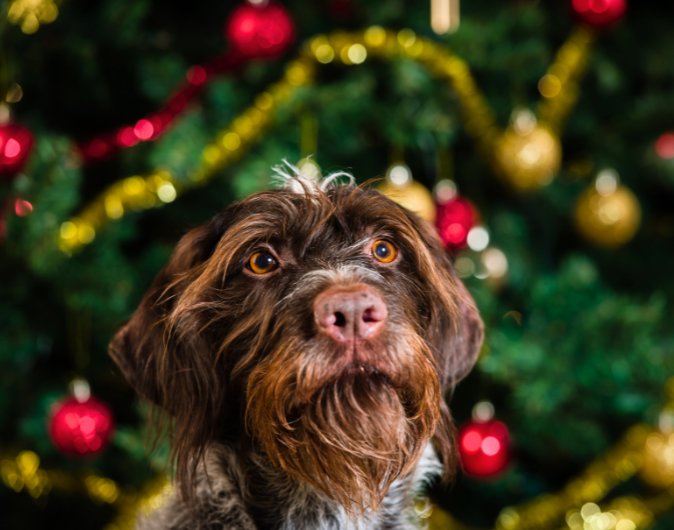 Christmas Eve
After you've set out the milk and cookies for Santa, come and join us for a Christmas Eve to remember as we kick off our festive charity quiz.
Food served 12pm - 5pm
Christmas charity quiz
£5 entry
£2.50 goes to Charity of the Year, Brain Tumour Research
£2.50 to cash prize pot
Prizes for 2nd & 3rd place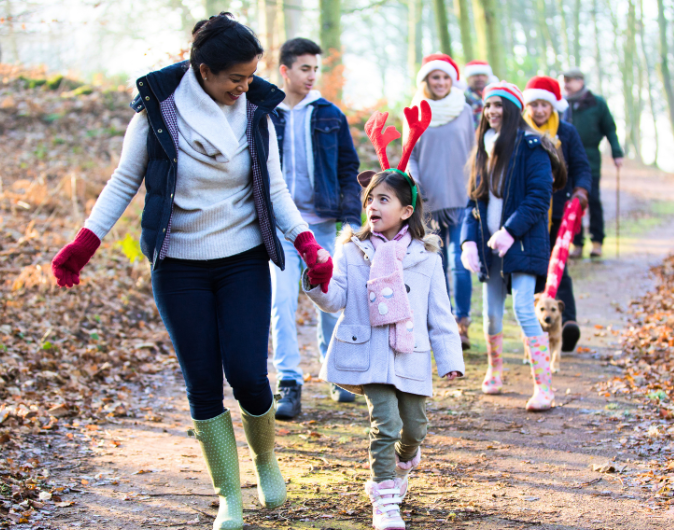 Christmas Day - bookings now open!
Unwrap your presents and let us take care of the rest – Christmas Day at The Old Mill pub comes fully-loaded with a three-course Christmas dinner, entertainment and memories that will last a lifetime.
Bookings only between 12pm & 3pm for food
Open 12pm - 4pm for drinks
Pre-orders due 18th December
Entertainment on throughout the day
Prices:
Adults: £35 – three courses & arrival drink
Children: £25 – three courses & arrival drink
£10 per person deposit required to confirm booking
Final payments due 20th December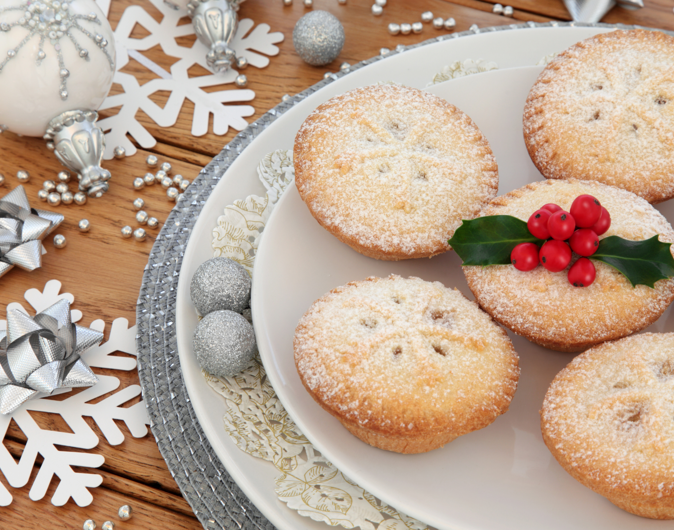 Boxing Day
Continue the festivities this Boxing Day, jam-packed with entertainment for the whole family. From Christmas film showings and cookie decorating to a seasonal scavenger hunt.
Christmas films showing from 4pm - 9pm
Reduced food menu serving 12pm - 7pm
Kids activities during the day:
Writing thank you letters to Santa: Free
Cookie decoration: £2
Christmas scavenger hunt around the park: £2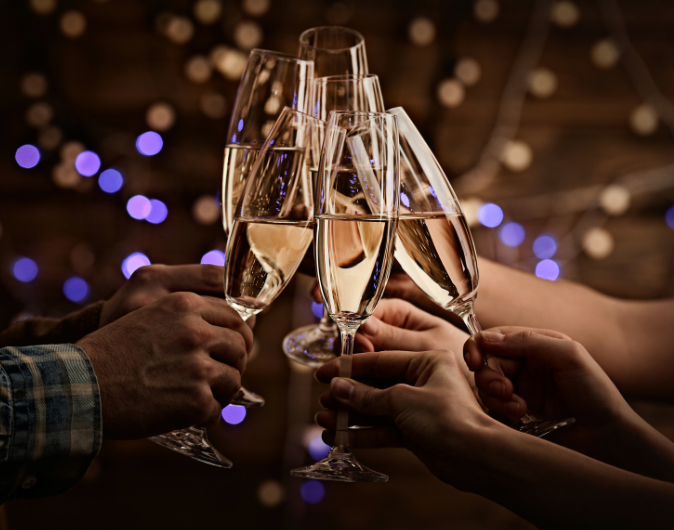 The Old Mill New Year's Eve Party
Get your glitz and glam on for one last time this year, as we throw our Old Mill NYE party. This is a ticketed event and 20% of every ticket goes to charity.
Our ticketed event for a New Year's Eve to remember! Sip on your arrival drinks and graze on our buffet, before heading to the disco in the conservatory
Enjoy our charity raffle and specialist NYE cocktails, putting you in the party mood until the countdown to New Year. 2024 here we come!
The theme will be: All That Glitters
More details to come…
Delicious food in Woolacombe
Enjoy a host of delicious meals, from our rolling specials menu created and prepared by our head chef Wayne, to a scrumptious carvery every Sunday! The team works hard to make The Old Mill one of the best places to come and eat in Woolacombe.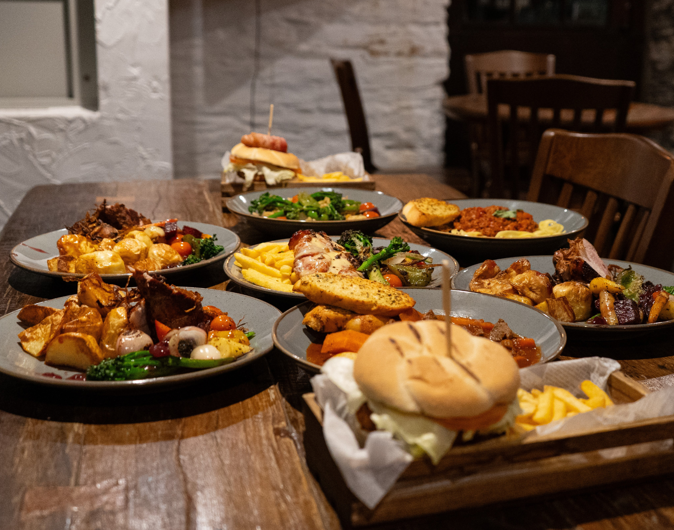 Times and menus
Food serving times:
Monday – Friday: 4pm - 9pm
Friday – Saturday: 12 noon - 9pm
Sunday: 12 noon - 7pm (carvery and limited menu)
View our full menus:
Please note that The Old Mill offers a rolling specials menu, please contact the pub for more details on 01271 870237.
The Old Mill had fantastic food and the staff couldn't have been more helpful!
June 2023
Facilities at The Old Mill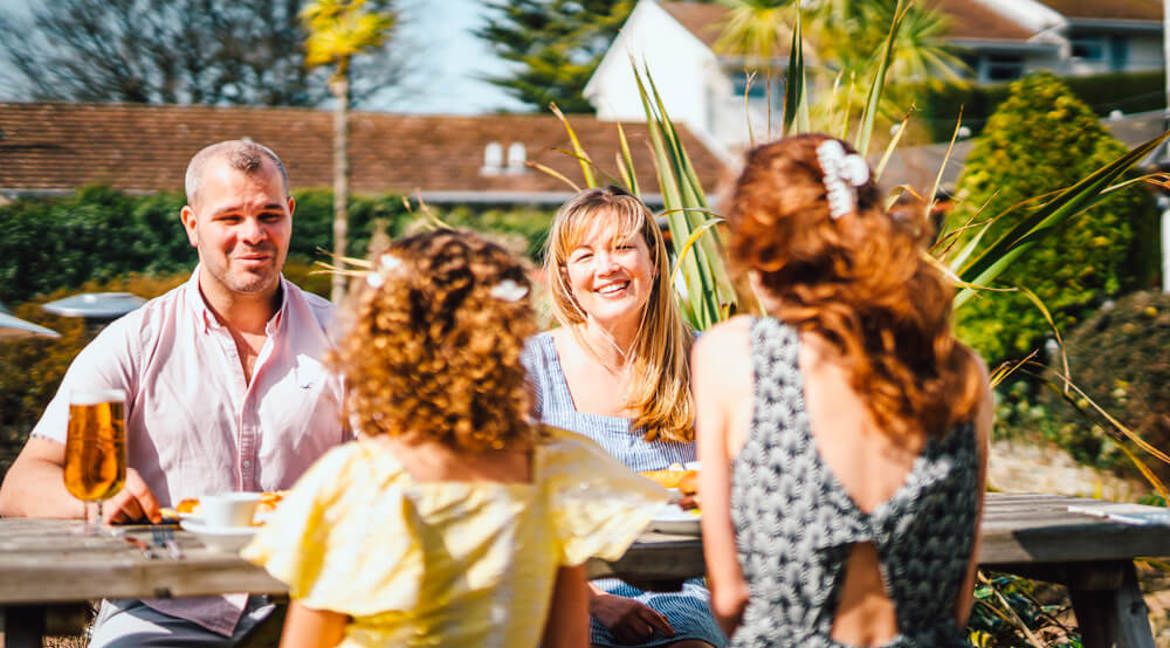 Facilities
Newly refurbished beer garden
Ramp access
Outdoor heaters
Children's play area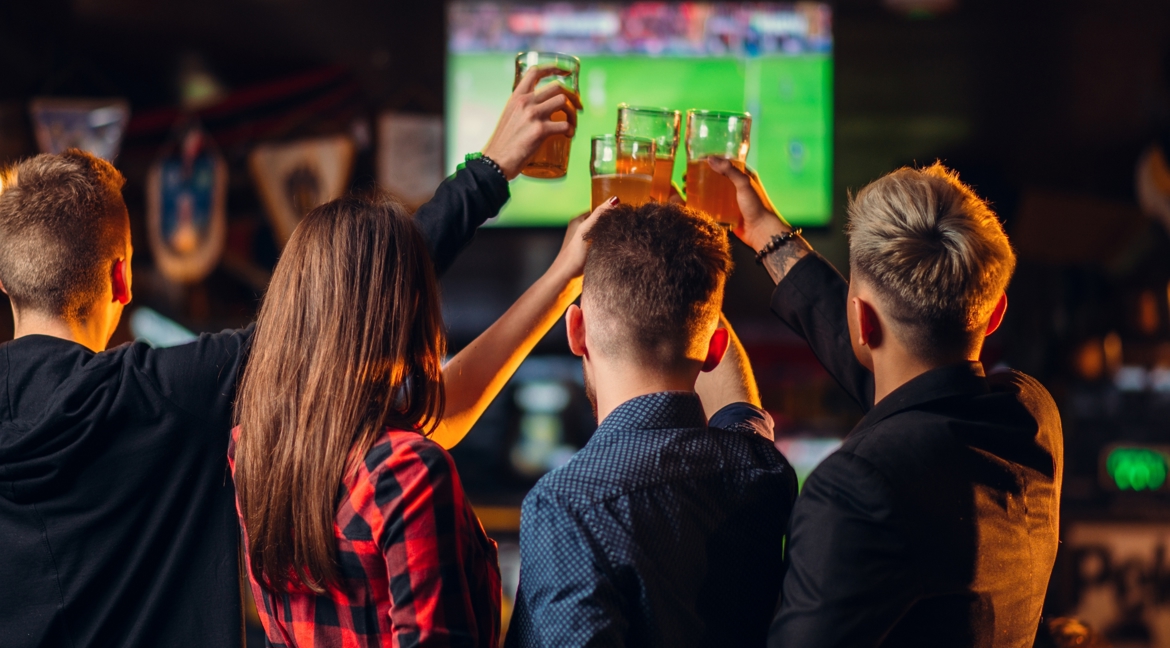 Live sport and entertainment
Each week we have a host of live entertainment, including quizzes, live singers and magicians to keep the kids entertained! Plus, catch all your favourite sports live at The Old Mill! Showing live Football, F1, Cricket, Golf and more on Sky Sports and TNT, for you and your friends to get together.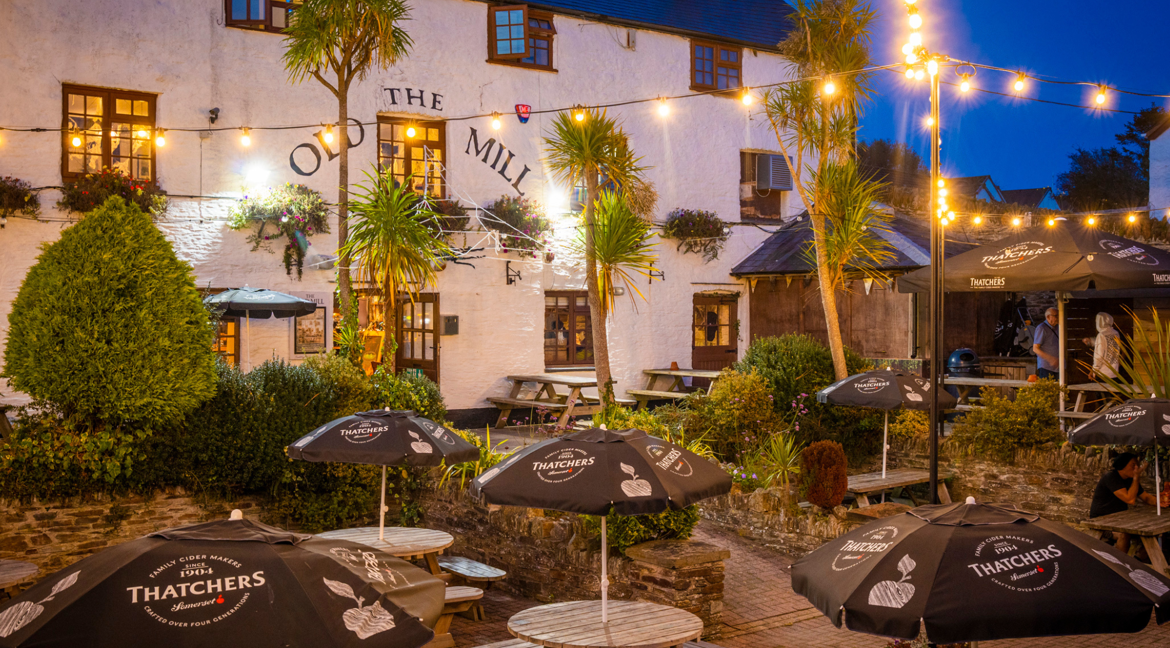 Venue hire at The Old Mill
If you're looking for somewhere to hire for an event such as a baby shower, engagement, birthday, celebratory meal then The Old Mill is the perfect location. We'd love to see you here! For more information, call us on 01271 870237.
Lovely the perfect evening food was fantastic and staff Thank you 12 of us had the best meals here last night fantastic staff 5 star food will defo be back and pass on to everyone we know to dine here . lovely night thank you to chefs staff . PERFECT night could not fault anything . 😊
Review from 24 Jun 2023
Fantastic place, dog friendly What a fantastic pub, great food cooked to perfection and served by great friendly staff. Can recommend fish of the day, bangers and mash and the fish cake is to die for
Review from 20 Jun 2023
Freindly & welcoming Hospitality The Old Mill Team led buy Lochlan offered 20 families on a girls football team weekend away fabulous hospitality and food. The Head chef (Lucas) put on a fabulous buffet and catered for a variety of needs. The team made it all look easy and nothing was too much trouble. Thank you for making it a night and weekend to remember for all the right reasons.
Review from 17 Jun 2023
Amazing food and amazing staff! The old Mill had fantastic food and the staff couldn't have been more helpful! My mum is coeliac and had trouble most of the week to find food that she could eat, not after going to the old mill, all of their desserts are gluten free and they were very quick to let her know what mains she was able to eat and assured her that they would clean everything down before making her meal! The atmosphere was great and the service was impeccable, my family and I would definitely eat here again when we are in the area and would recommend it to anyone we know who might visit! Thank you so much for making my mums holiday fantastic!!!
Review from 3 Jun 2023
Very enjoyable evening Lovely food. Good range of drinks. Friendly staff. Excellent pub quiz on a Thursday. Had a great time.
Review from 25 May 2023
Fantastic food and friendly staff The pub is relatively large and has a big beer garden which was a sun trap when we were there. We were staying in the holiday park so were lucky enough to try the burger and chips, fish and chips and the carvery. We found the food to be excellent quality and cooked to perfection. I could actually say the carvery is the best I've had. I couldn't fault it. Can't wait to go back when we next visit the area.
Review from 17 May 2023
Good hosts. More than a holiday park bar! Great food for after a day in the sea. Very welcoming team. Clean spacious old building but warm and welcoming. They deserve great success.
Review from 26 Mar 2023
I've been to this pub a small number of times over the last few months , and I've tried out different selections from their menu, even the Sunday carvery! It's definitely not to be missed, it's a warm feeling when you enter the pub , the staff are always smiling and their at hand if anything we want , met Mathew, The supervisor, who greeted us at many of our visits, made us feel warm and welcomed, The Food is definitely not to be missed, I'll be back 👍
Review from 14 Mar 2023
Directions
Find us at The Old Mill, 2 Ossaborough Lane, Woolacombe, EX34 7HJ
The Old Mill pub and restaurant is just a 13-minute drive from Braunton and a 7-minute drive from Mortehoe.
Frequently asked questions
Call us on 01271 870237 to book your table at The Old Mill.

Our winter range is: Korev, San Miguel, Thatchers Gold, Thatchers Haze, Thatchers Fusion (Blood Orange, Apple & Blackcurrant, Spiced Apple), Guinness, Stan's Big Apple.
Get in touch
Our friendly team are waiting to hear from you. Check out our office hours
Call 03300 535 524
Award-Winning UK Holiday Parks