Skip to content
1) ? true : false" :class="{ ' shadow transition duration-200' : hasScrolled}">
|
Dog walks in West Scotland
|
Our Journal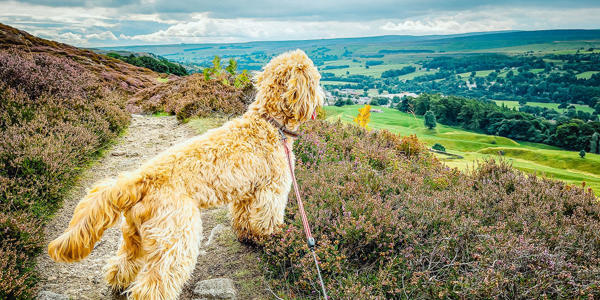 Dumfriesshire
Dog walks in West Scotland
Dog walks in West Scotland
We love getting out and about on walks with our dogs. Not only does it keep them energised and happy, but it also allows us to see more of the sights surrounding our beautiful parks.
With two amazing locations in west Scotland, we are spoilt for choice when it comes to dog walks in Ayrshire and dog walks in Dumfriesshire. Both parks, Viewfield Manor and Queensberry Bay, are ideally located for taking in both country and coast.

Dog Walking in Dumfriesshire
At Queensberry Bay you have the beach literally on the doorstep, so you don't have to go far to get the dog out and about. Your four-legged friend will love the miles of coastline overlooking the Solway firth. If you are looking for a dedicated walk to do with your dog, you can enjoy the Annan Shore Walk within a ten-minute drive. This 5km route starts in the centre of the town and heads towards the Solway Firth. You will pass through the paths of the Merse, an expanse of tidal salt marsh. There are great opportunities for bird watching while you walk.
Mabie Forest Walks
If you are looking for a dog walk in Dumfriesshire which is a little further afield, why not enjoy a woodland walk in Mabie Forest. This beautiful woodland is 20 miles from Queensberry Bay, located between Dumfries and New Abbey. It has plenty of signposted routes for your visit.
Amazing Ayrshire dog walks
When staying in Ayrshire there are also a great number of beach and countryside dog walks for you and your pooch to enjoy. Just a couple of miles from the park you can visit Eglinton Country Park. This 400-acre park is located in the grounds of Eglinton Castle. Featuring woodland walks, a garden walks and grassy areas for picnics, its a lovely day out for all. There are a number of areas where your dog can go off lead and a park for children to enjoy if you're looking for that ultimate dog-friendly family day out.
Irvine Beach Walks
Just 4 miles from the park you can find Irvine Beach where your dog can enjoy a run around and a paddle in the water. This stunning beach offers miles of enjoyment with the Irvine Beach Trail starting from the town side of the beach. The trail is just a small part of the huge coastal path, which is the ultimate dog walk in Ayrshire, at 148km! We don't think your dog would thank us for recommending that, but the Troon to Irvine route makes up 11km of the path and offers fantastic views across the Ayrshire coast.
Why not visit a Verdant Leisure park and enjoy a pet-friendly break with us? We often have pets go free breaks meaning your dogs can join in the fun for no extra price! Find out about our latest offers by signing up to our mailing list here.
If you are looking to stay in this beautiful area, look no further than breaks at Viewfield Manor or Queensberry Bay. We have fantastic facilities and great value accommodation. Keep up to date with the latest holiday offer offers by signing up to our mailing list below.
Related Articles

Dumfriesshire

Verdant Leisure
Get in touch
Our friendly team are waiting to hear from you. Check out our office hours
Call 03300 535 524
Award-Winning UK Holiday Parks