Skip to content
1) ? true : false" :class="{ ' shadow transition duration-200' : hasScrolled}">
|
Cleaning Caravan Guide: How to clean a Caravan
|
Our Journal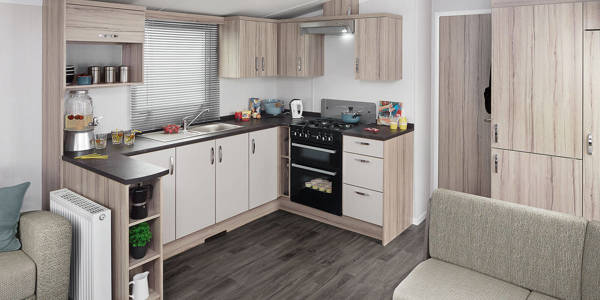 Blog
Cleaning Caravan Guide: How to clean a Caravan
14/04/2023
Are you struggling to clean your caravan? Have you just collected your caravan from storage, and it's covered in green algae, leaves and dirt? Here's how to clean your caravan the right way to ensure that it stays looking brand new. When choosing caravan cleaning equipment, there are a variety of options like Autoglym, Care-avan and Muc-Off, to name a few, these vary in price and really come down to personal preference on which is best to use. When cleaning a caravan, whether it's your first time or your 100th, follow these simple steps for the best results.
What you need
So, what do you need when cleaning a caravan? We have provided a list of all the things you will need to turn your caravan back to looking brand new again.
Hose/ Buckets of water
Ladder
Long handle brush/mop
Sponge or wash mitt
Caravan shampoo/cleaner
Caravan window cleaner
Caravan polish
Soft brush
Microfibre drying cloth and dusters
White spirit
Vacuum cleaner
Anti-bacterial spray
Air freshener
Bicarbonate of soda
Prepare your caravan
Before you start, preparing yourself will help give you the best possible start. Getting everything organised and ready will help save time and ensure that you don't need to keep going back and forward.
Most caravan owners clean their caravan every quarter, this will depend on the time of year and the number of times you use your caravan. The length of time cleaning a caravan will take, will vary depending on the size and how dirty it currently is, this could be anywhere from a couple of hours to a full day.
Cleaning the caravan roof
It's important to start with the roof when cleaning your caravan for a couple of reasons, firstly, it's normally the dirtiest place and if you leave it until last then all the dirt will end up going down the side of your caravan and you will end up cleaning the sides twice. Secondly, using ladders to reach the roof will potentially leave marks on the sparkling surface you have just cleaned so it's important to know how to clean a caravan roof properly.
Wash the exterior
When it comes to caravan exterior cleaning, most caravan cleaners will be sufficient, however, you may struggle a bit more with the black streaks around the windows which might take more elbow grease to clean. Black streaks appear as the caravan ages and the rubber seal starts to shed little bits of rubber particles. These wash down the side of the caravan bodywork when it rains and stick to the surface. Then other dirt sticks to these rubber particles. As a result, you normally need to use something stronger to remove these black streaks. The best way to wash a caravan is by washing from the top down.
Apply polish and wax
Polishing and waxing may seem like an easy enough task, but using the right products can make all the difference and make sure that your pride and joy stays cleaner for longer. Doing your research is very important and well worth the additional time as there is a variety of different products to use depending on the material your caravan is made of. Avoiding strong polishing agents like T-Cut as this is too abrasive for aluminium caravans and will damage the paintwork.
Clean the interior
We all know that cleaning your caravan doesn't just mean the outside and realistically the interior caravan cleaning can take just as long to do. Starting from the back of your caravan and making your way forward from room to room, this is the most common way especially when doing a full clean. When you're cleaning the bathroom and bedrooms, a lightweight hoover is recommended, especially if you're using the caravan mains, this will help you keep the carpets and floors dirt free. The bathroom is best to be cleaned with household cleaning products, the same can be applied for the kitchen area and cupboards.
Additional tips
We have collated some easy to remember tips to make sure you protect and maintain a "brand new" look to your caravan for as long as possible.
Don't wash it on a sunny day. Stains can be left if water is dried off too quickly
Only use caravan cleaning products
Avoid wearing clothing that can scratch the paintwork e.g. zips
Be considerate of water run-off to other nearby caravan owners
Don't use a high-powered jet wash as this will damage the paintwork
Cleaning a caravan, for most owners, is a quarterly event, and by following these tips will ensure that you keep your pride and joy in the best possible condition, making holidays and trips with your loved ones that bit more special and there will even be space for your four-legged friend (without having to worry about your caravan getting dirty). For more about travelling with your canine friend, check out our blog on the 12 tips for travelling with your dog.
Get in touch
Our friendly team are waiting to hear from you. Check out our office hours
Call 03300 535 524
Award-Winning UK Holiday Parks