Skip to content
1) ? true : false" :class="{ ' shadow transition duration-200' : hasScrolled}">
|
The 8 best beaches in Northumberland
|
Our Journal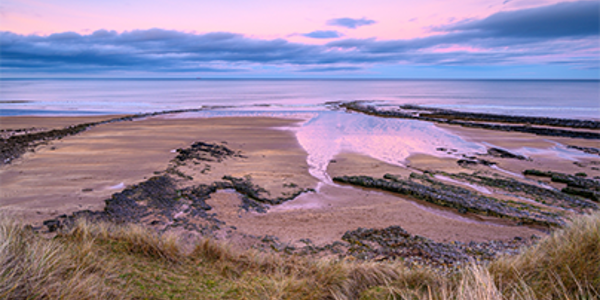 Northumberland
The 8 best beaches in Northumberland
07/09/2023
It's no wonder the beautiful, rural county of Northumberland used to be described as the 'Secret Kingdom'. Today, the North East is known for its historic castles, gorgeous villages, fantastic countryside walks, and of course, its phenomenal beaches. Come rain or shine, anyone can appreciate the true beauty of these beaches. Picture this: the breeze of fresh sea air, soft sand between your toes, spending quality time with your loved ones, all whilst admiring the waves breaking on the shoreline. 
We've hand-picked 8 of the most beautiful beaches in Northumberland, so you can plan your next coastal adventure for your next stay at Riverside Leisure Park.
1. Bamburgh Beach
This is one of the most popular beaches in North East England. If you're seeking a day out with the family, then Bamburgh Beach is the perfect choice for you! Boasting a long stretch of gleaming sands, it's the ideal coastal location for your canine companion to play a game of catch, or for your little ones to make sandcastles. Let's not forget, the magnificent Bamburgh Castle, towering over the beach. You can explore the castle and learn about its past, or for those looking for the best surf beaches in Northumberland, you can catch the waves – this beach is one of the most consistent surfing spots on the coast.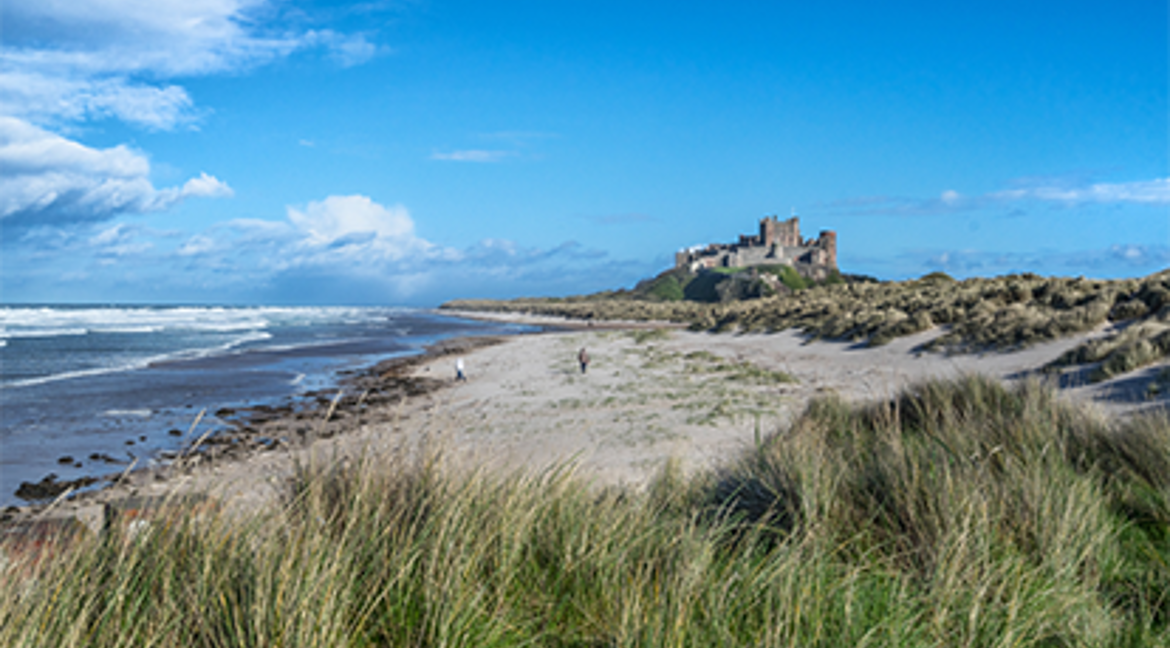 2. Embleton Bay
This beach is perfect for those who love exploring the outdoors – you can even try activities such as kite surfing and wind surfing on the bay. Plus, it's an unmissable Instagram opportunity, as you'll want to capture the breathtaking Dunstanburgh Castle which overlooks the bay. Take a visit to this vast stretch of golden sand if you're looking for sea glass beaches in Northumberland; you're sure to find something to add to your collection.
We've even named the walk through Embleton Bay, from Craster to Dunstanburgh Castle, as one of the best walks in Northumberland.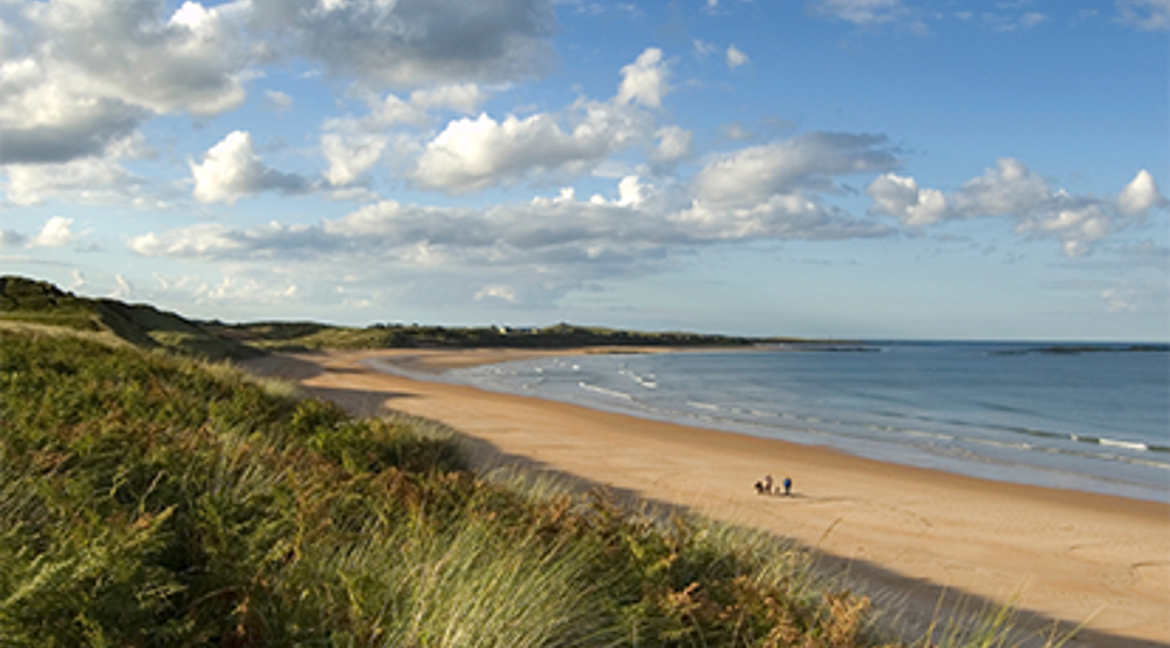 3. Warkworth Beach
Located on the north Northumberland Heritage Coast, this beach offers remarkable views towards Alnmouth and Coquet Island. Warkworth Beach is also one of the best beaches in Northumberland for dogs. It's dog-friendly all year round, with no restrictions, so your four-legged friend will be free to run across the sand and splash in the sea! Check out our dog-friendly holidays in Northumberland to plan your next visit with your pup.
4. Cocklawburn Beach
Only a 30-minute drive from our Riverside Leisure Park, this is a must-visit during your holiday. For an active day out, enjoy a lovely long walk or bike ride across the Spittal, spotting some beautiful views along the way, including local wildlife and birds. Keep the little ones busy at Cocklawburn Beach as they explore the rock pools and paddle in the tide, whilst your four-legged friend is more than welcome all year round, too.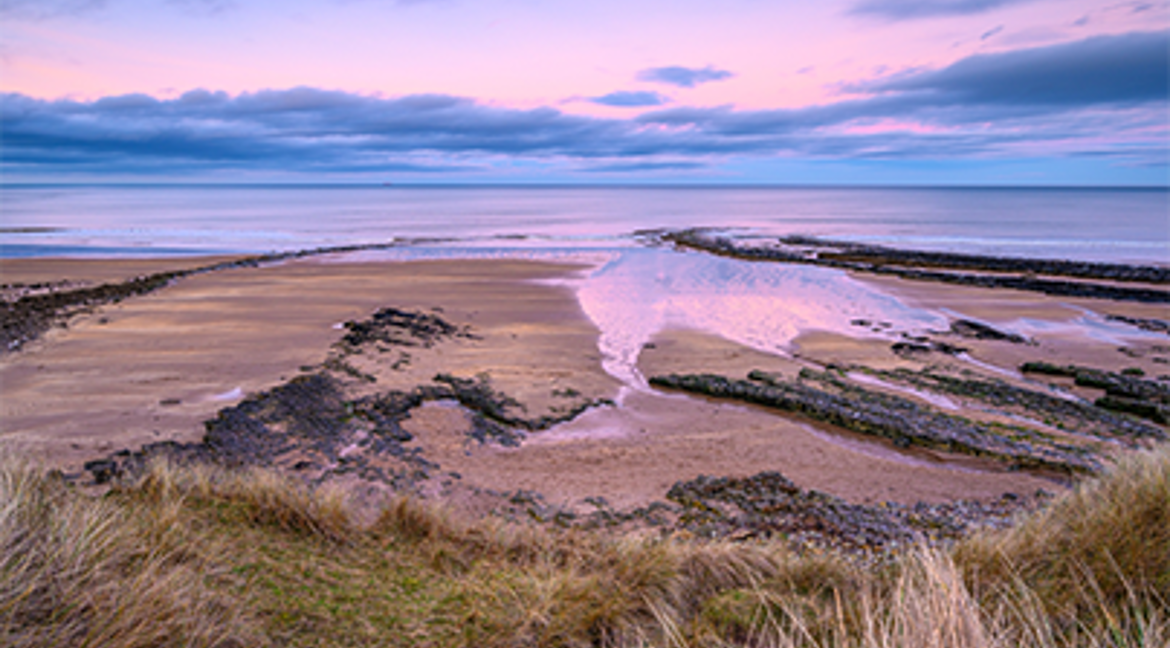 5. Blyth Beach
Are you looking for the best beaches in Northumberland for swimming? If so, Blyth Beach is the perfect choice for you. Allow yourself to enjoy a sunrise dip in the quiet water, and you may be lucky enough to spot marine wildlife such as dolphins or seals. Fancy a walk? Take a leisurely stroll across the sand, or cover the whole 4.7-mile distance from the pier at the River Blyth to the dunes at Seaton Sluice links. The promenade at the beach is lined with brightly painted beach huts, a variety of places to eat, and there is one of the best fish and chip restaurants in the country! 
6. Coves Haven Beach
Located on Holy Island, this little-known gem is certainly one of the best hidden beaches in Northumberland. If you truly want to unwind and escape your daily stresses, them this small cove is the choice for you. For a relaxing day out, pack a picnic to enjoy on the serene sands of this sheltered beach. When staying at our Riverside Leisure Park, you can take a scenic drive across the causeway then a short walk to Coves Haven Beach.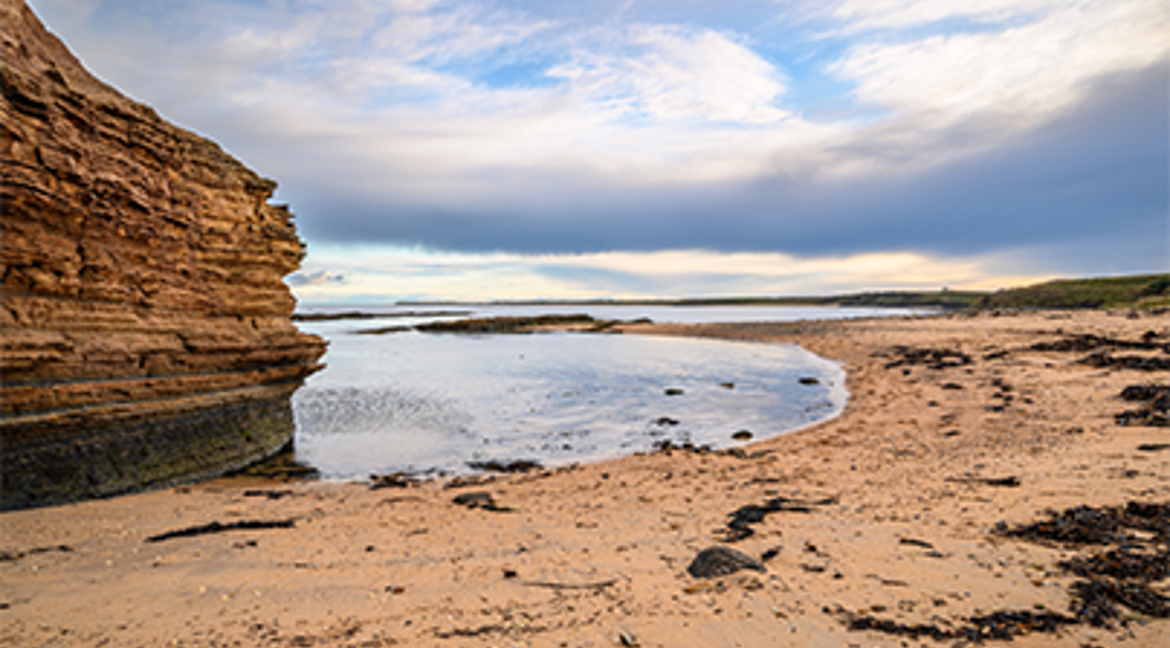 7. Ross Bank Sands Beach
Another of the most beautiful hidden beaches in Northumberland, you're sure to enjoy the peace and quiet of Ross Bank Sands Beach. What could be better than a relaxing day out, whether it be a romantic date or a family adventure, where you can spot the local wildlife. Keep your eyes peeled, as you may even spot seals here!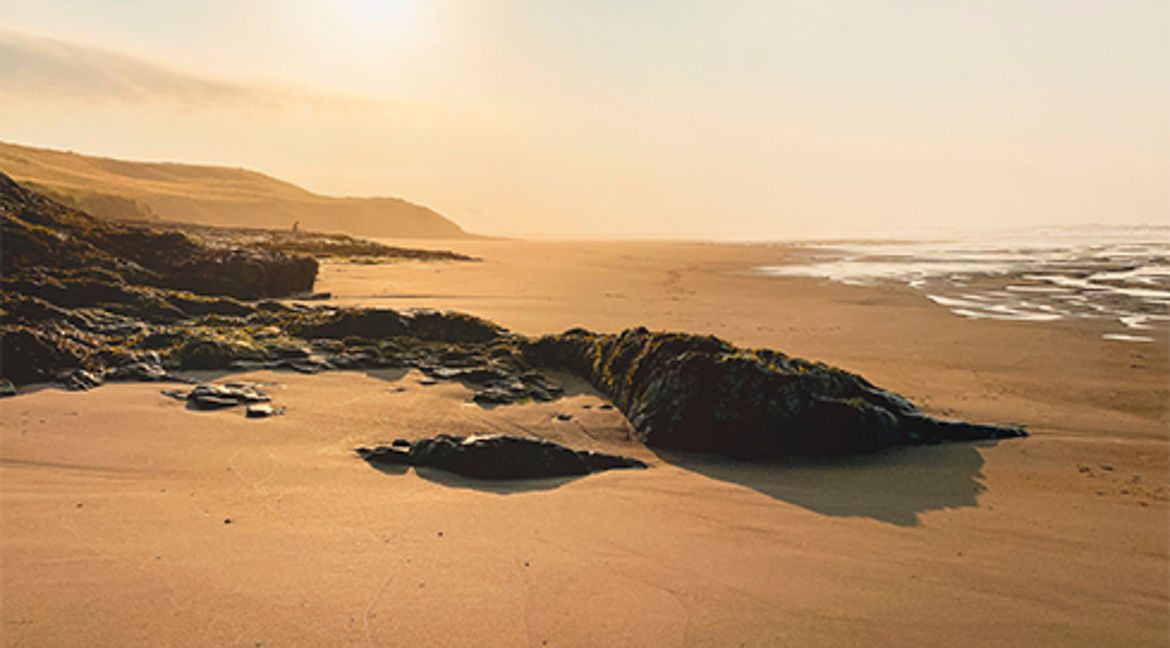 8. Rumbling Kern Beach
Last but not least, this is an amazing destination to tick off your bucket list. Rumbling Kern Beach gets its name from the rhythmic sound of the waves crashing through the rocks during high tide. When the tide runs low, you can explore the beautiful beach, rocky landscape, and the tidal pools. This is perfect for your four-legged friend to have a good sniff around, as it's dog friendly all year around. Rumbling Kern is known as the best sunrise location in Northumberland and a photographer's dream - so, get your camera ready!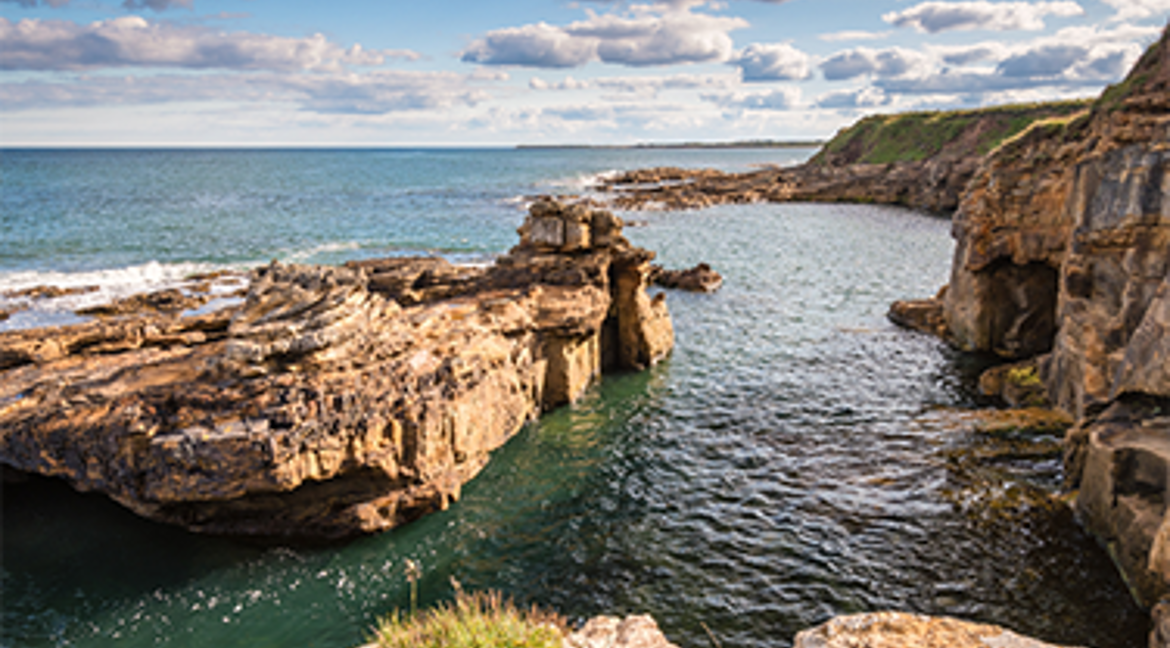 If you're looking for a beach escape, Northumberland is the perfect destination. With miles of coastline and countryside to explore, there's a beach to suit everyone. Check out Riverside Leisure Park, set in the heart of Northumberland, and book your next getaway! Riverside offers amazing facilities such as an indoor heated pool, live entertainment, bar and restaurant, and much more to take advantage off after a long day visiting the beach. We offer a variety of holiday accommodation including, caravans, lodges, camping pods and dog-friendly accommodation so there's lots to choose from when you're booking your beach adventure! 
Get in touch
Our friendly team are waiting to hear from you. Check out our office hours
Call 03300 535 524
Award-Winning UK Holiday Parks