Skip to content
1) ? true : false" :class="{ ' shadow transition duration-200' : hasScrolled}">
|
Five money-saving tips for your next staycation
|
Our Journal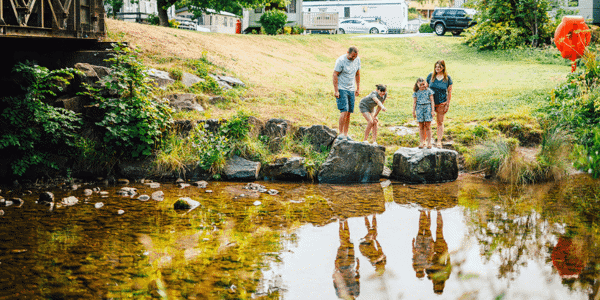 Verdant Leisure
Five money-saving tips for your next staycation
15/03/2023
The busy holiday season is fast approaching and already people are booking their staycations with partners, family and friends. This year, with the cost-of-living crisis on everyone's minds, saving money will be a top priority for holidaymakers.
To ensure everyone has a holiday to remember, we've shared our favourite budget-maximising tips that are key to making the most of your staycation, without money getting in the way. 
Choose your location wisely
Deciding on the right destination for you holiday is the biggest factor in how much money you can save along the way. Particularly for families who can only travel in term times, it is important to avoid tourist traps such as major cities and overly crowded beaches as they will be more costly including your accommodation and dining out.
Parks such as Riverside and Viewfield Manor are situated in areas of natural beauty that not only provide a relaxing and peaceful environment but also make for affordability when it comes to your stay.
Look for budget friendly accommodation
Knowing which accommodation is right for you is the next step in building your perfect budget-friendly staycation. Holiday parks are a fantastic option for everyone, with romantic lodges available for couples and larger holiday-homes an option for families who want to stay together, including your furry friends!
Find deals on transport
Whether you are making your journey by car, train, bus or even aeroplane, saving money on transport will be on the mind. Look for discounts and vouchers that can be used when travelling, most public transport will be either discounted or free for children under a certain age.
If you are travelling by car, some supermarkets offer money towards petrol when you spend in store, so you can cut costs there.
Make the most of onsite activities
Most holiday-parks are more than just the accommodation, with onsite offerings that mean you can keep everyone entertained right at your doorstep. You can often find a range of activities and facilties for people of all ages including hot tubs, evening entertainment, pottery making and sporting activities.
Taking full advantage of the entertainment on offer is a great way to save money travelling elsewhere and splashing out on external providers.
Explore the local area
The UK is home to stunning national parks, beaches, quaint towns and villages that are waiting to be explored. Why not pack a picnic and take a long walk through the countryside or spend a day on the local beach?
Getting into the outdoors is not only light on our wallets but is a great way to do some gentle exercise and learn something new about your chosen holiday destination.
Related Articles

Dumfriesshire

Verdant Leisure
Get in touch
Our friendly team are waiting to hear from you. Check out our office hours
Call 03300 535 524
Award-Winning UK Holiday Parks